Inspiration from Hanna Andersson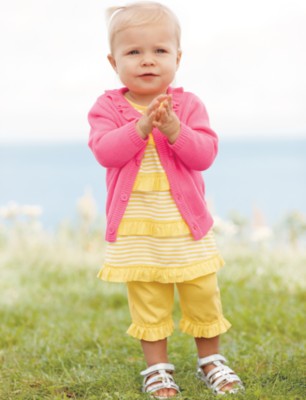 I got the Hanna Andersson catalog in the mail and saw this cute dress/shirt on the front page and thought it looked simple enough… just add ruffles, right?
I used about a 3/4 yard of the stripe fabric and about 1/2 yard of the solid pink fabric (for ruffles and neckline)
I used the same pattern I had for Avie (made by folding a shirt that fits her in half and tracing around it to make a pattern- adding seam allowance) and cut out a longer piece so it's longer than a shirt.
I cut out a front and a back w/ this cute cotton knit fabric that I found at Joann's, which actually is almost the same as the design in the "hanna" picture
I also cut out 4 long pieces 1  1/2″ strips for the ruffles (but I ended up needing a little more since the lower the dress, the longer strips I need for the entire front and back)
Also made and cut out 2 sleeves on the fold
I forgot to cut out the strip for the neckline but did it later.
Then pinned the shoulders together w/ right sides together and also pinned the sides and sewed it together.
I gathered the sleeves then pinned it onto the armhole and sewed it on
just like that
cut out another strip of fabric for the neckline.  Basically ironed the strip in half, then pinned it onto the right side of the fabric, pulling it at the curves (so it doesn't stretch out the fabric when you stitch it), then sewed it together and ironed.
Now for the ruffles:
Use the strips you cut and gather them to make the ruffles (stitch w/ the longest stitch length and pull one side of the thread and it gathers), which I then pinned onto where I wanted them.
After you pin them on, sew it down (it's pretty tedious… next time I think I'll add regular cotton fabric for the ruffles instread of knit fabric.)
Here's the finished product!
Notes to self:
*next time use cotton fabric for the ruffles and not knit fabric
*cut the sleeves shorter 
*make the neckline a little more higher around all sides of neck.
*and perhaps cut a thicker strip for the neckline bias
Now… wish I had more solid pink fabric to make those cute matching capri pants…